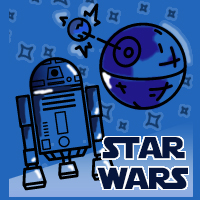 Have you always wanted to be one of the heroes of the Star Wars movies? Now's your chance to be part of the story!
Your team's mission is to rescue R2D2 droid from the dreaded Death Star and deliver the plans for the space station to the Rebel base. You must do this in 60 minutes or you will find yourself facing Lord Vader's lightsaber. The game is technical, with both skill and logic challenges, no analogue padlocks and a slight emphasis on search. Great attention has been paid to the equipment and the scenery, so that you really feel like you're in a scene from the film!
- ADULT GAME (This adventure is mainly for adults, but children can also take part in mixed teams. Under the age of 14, adult supervision is required)
- for 2-6 person teams (The playing field can accommodate a maximum of six players and the technical parts can be "fooled" with 7 players, so we do not recommend an extra team member in this quest)
- game time is 60 minutes (plus about 15 minutes to go over instructions, so you will be on site for roughly 80-90 minutes from arrival to departure)
- Third generation escape game (You don't have to expect any searching, old-style locks and keys in the game. You can make progress by opening digital locks, laser gates, skill and logic exercises)
- hardness level of your choice (before the game you can indicate to our game master if you want to play on easy or hard level, this will influence the amount of help you will receive)
If you feel like it, book now!
WARNING! Old voucher codes (16-digit numeric code) cannot be handled by the current booking system. Of course, they are still valid during the redemption period and you can use them by presenting them on the spot before the game!