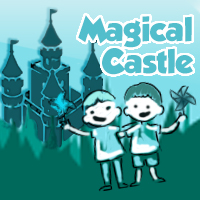 An escape game designed for children!
The Leprechaun wants to keep you inside his castle, but your fairytale helpers won't let him!
With their help, you will be able to open the exit... if you work well together, as a team.
This version can be played in hungarian language only, sorry!
...
Recommended for the age of 6-12

 Of course, players of different ages are also welcome to join larger teams!

WITH PARENTAL ADVISORY

 The participation of the adult supervisor in the game is FREE, if he/she does not wish to be an active member of the team and does not participate in the tasks!

For 2-8 person teams

 (The shuttles can comfortably accommodate one person, so you can mainly ride in single file, but we can accommodate up to 9 people at your own risk.)

Game time is 60 minutes

 (plus about 15 minutes to go over instructions, so you will be on site for roughly 80-90 minutes from arrival to departure).

The maze part of the game takes place in twilight!

 If you don't like dark and cramped spaces, we don't recommend playing the game!

Only in Hungarian language!

 
If you feel like it, book now!
WARNING! Old voucher codes (16-digit numeric code) cannot be handled by the current booking system. Of course, they are still valid during the redemption period and you can use them by presenting them on the spot before the game!