BACHELORETTE PARTY AT ESCAPE ZONE
What could be a more exciting start to a bachelorette party than a real escape room experience, where the bride finds herself in a thrilling story with her team? Fun will be guaranteed, the team will bond even more and an unforgettable experience will be had by all!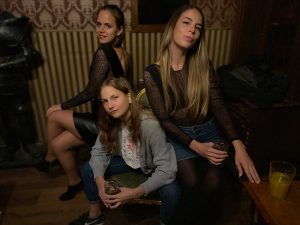 Celebrate with us!
The big day is approaching, the last real free girls' night out is being organised. For a kick-off, a mid-day treat or even an exciting end to the day, a game of escape in one of the Escape Zone rooms is a great choice for a fun, light-hearted evening.
Get a team of up to ten people together and bring the bride for a super activity, have fun while testing your logic, team spirit and dexterity! If you're less familiar with each other, our team-building exercises are sure to make you bond.
Want to make this already exciting event really unique and memorable? A breakout room is a good idea, but is there anything else you need to personalise the programme? Are you wondering how to make it even more personal to the bride? The Escape Zone team will be your partner! With a few changes, we can completely customize the venue or even the story itself. We can weave the date of the engagement into an exercise, or hide a plethora of photos of the newlyweds on the field. The game can also be used to guess the next destination of the hen party... In fact, the only limit to how much you can change the game to suit your needs is your imagination!
- Want a unique decoration? We can do it!
- How about a welcome drink? No problem!
- Would you hide your own gifts on the pitch? Sure thing!
If you've decided to weave this into your last real girls' day/evening out, all you have to do is choose the quest that best suits you and the bride! From easy to hard, from mystery to time travel to horror, you'll find all the exciting mysteries we have to offer. Of course, the real excitement starts on the spot and is sure to set the mood perfectly!
Contact us with any special requests here, we can do almost everything!