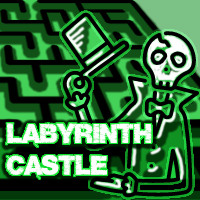 Labyrinth Castle
labirintus budapest szabadulószoba
Count Véressy's plan is clear: total domination of Europe. Only he didn't count on you and your team!
Will you complete the tasks in an hour, or will you unwittingly become part of the Count's army?
Count Véressy and his family live in a secret castle in a labyrinth somewhere in the heart of the Buda hills.
The Count wants to attack and enslave Europe, so he conducts human laboratory experiments in a hidden room in the castle. First, he sucks the life force from the living, then, using the serum he draws from them to resurrect the dead, he creates all manner of zombies to create his own invincible army.
The future of Europe depends on you and your team. If you find the castle at the exit of the labyrinth and the most powerful serum ever developed by the Count, he will no longer be able to carry out his mad plan and will no longer be a threat to humanity.
The Count is on his way to get the last ingredient to make the serum complete and functional, but he will be returning home in an hour. The castle has been carefully sealed so that no one can get out, even if they find it.
So you and your team have exactly one hour to escape the labyrinth and find the strongest blood sample.
Europe's future is up to your team now...
ADULT GAME

(This adventure is mainly for adults, but children can also take part in mixed teams. Under the age of 14, adult supervision is required)

Almost 100m2 game field

You will have to pass through a maze and several rooms.

For 2-8 person teams

(The shuttles can comfortably accommodate one person, so you can mainly ride in single file, but we can accommodate up to 9 people at your own risk.)

Classic style escape game

(In this game, to the delight of many, we've put more emphasis on the classic elements of exit games, such as searching, spotting and deciphering hidden information, using traditional keys, opening a variety of padlocks and solving skill challenges.)

Game time is 60 minutes

(plus about 15 minutes to go over instructions, so you will be on site for roughly 80-90 minutes from arrival to departure)

Hardness level of your choice

(before the game you can indicate to our game master if you want to play on easy or hard level, this will influence the amount of help you will receive)
If you feel like it, book now!
WARNING! Old voucher codes (16-digit numeric code) cannot be handled by the current booking system. Of course, they are still valid during the redemption period and you can use them by presenting them on the spot before the game!