BDAY ESCAPE GAME AT ESCAPE ZONE BUDAPEST
What could be a more exciting gift than a real escape room experience, where the celebrant finds himself in a thrilling story and has to use all his skills to solve the more and more tricky tasks that await him and his team?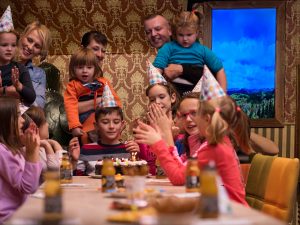 Celebrate with us!
Give the celebrant an unforgettable experience with a birthday escape game experience!
Guaranteed super fun for the whole team, a real surprise for the celebrant.
Choose the adventure that best suits your gift recipient from our five exciting games set up on our three rooms. You're sure to find something to your liking! We've got a range of horror-themed maps, mystery adventures and mystery legends to choose from. There's also a time travel map for more serious puzzles, but we've also got escape games for the kids!
- Does our celebrant love the Star Wars universe? The perfect choice for him or her will be our Star Wars game!
- Would you choose an exciting yet classic room with lots of padlocks? Labyrinth Castle room is what you are looking for!
- Do you like the time-travel stories of the Back to the Future films? Or maybe you'd feel at home in an abandoned power station with complex tasks? No question, that our Back to the Present room is the one you guys will enjoy the most!
- Do you like dark, mysterious, scary places? Can you use your head properly under stress? The Labyrinth of Fear will fit your needs!
- The youngest age group, but who would like to try one of today's most popular leisure activities, the free play game? For them, the Magical Castle will be the one!
Choose one from our popular gift cards! If you want the celebrant to play with friends and family at a time and ground of their choice, our voucher is a great solution.
Tip: Dress up our pitches with unique decorations: bring your personalised decorations, pictures or ask us for general birthday decorations.
Tip: If you want, you can rent our room for a celebration after the game, so you can even have a gift giving, a cake, a pizza or a toast.
Contact us with your needs here, we will try to make all your ideas come true!
IF YOU WOULD LIKE TO BOOK THE "CASTLE ROOM" FOR A CELEBRATION, YOU CAN DO SO BY SELECTING "BIRTHDAY ROOM RENTAL" FROM THE DROP-DOWN MENU UNDER THE LABYRINTH GAME VARIATIONS MENU WHEN MAKING YOUR RESERVATION!