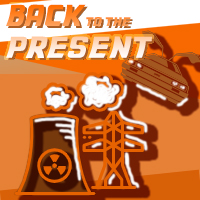 Back to the Present
Your energy is running low. The time machine is malfunctioned. This is not really the time and place you want to be...
But with a bit of skill and a big dose of logic, you can even turn the circumstances in the control room of an abandoned nuclear reactor to your advantage!
The idea for our most challenging and complex game to date is based on the story of the blockbuster film "Back to the Future".
The year is 1985, the setting is a decommissioned Soviet power plant where you've been sent because of a depleted flux capacitor. Your time machine needs power, so the obvious thing to do is to generate it by turning on the reactor. Fortunately, the power station used to employ Dr. Emmett Brown, aka "the Doc", and since he anticipated that a mishap might bring you here, he left plenty of help in the office to help you solve the difficult task.
However, you will have a maximum of 90 minutes to do this, as the site will be searched every hour and a half by security and any unauthorised intruders will be removed.
So hurry up and don't get stuck in the past! Will you make it back to the present?
ATTENTION!

Because of its difficulty, this quest is intended for players and teams with escape room experience who want a real challenge! Of course, if you feel up to it, you can try it as a beginner, but we recommend that you have someone on your team who has gained some experience in the past. 😉

- For 2-10 person teams

(For all ages! With adult advisory under 14 years of age)

Mixed style escape game

(In this game, we've got all the challenges of exit games, so you'll need to solve keys, digital constructs, brain-teasing puzzles, logic and skill challenges to progress. The exception to this is the hidden object challenge, where nothing is ever hidden)

90 minutes, long duration game

(plus about 15 minutes to go over instructions, so you will be on site for roughly 110-120 minutes from arrival to departure)

Hardness level of your choice

(before the game you can indicate to our game master if you want to play on easy or hard level, this will influence the amount of help you will receive)
If you feel like it, book now!
WARNING! Old voucher codes (16-digit numeric code) cannot be handled by the current booking system. Of course, they are still valid during the redemption period and you can use them by presenting them on the spot before the game!