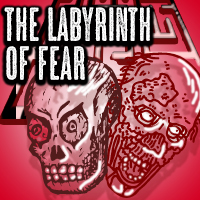 The Labyrinth of Fear
Deep in the labyrinth, the undead are being prepared on a conveyor belt.
Will you and your team be one of them by the end of the hour, or will you make it out in time?
Could you have guessed that the apocalypse would start from Budapest, from a secret labyrinth? Everyone way taken by surprise...
But somewhere in the belly of the Buda hills, an undead army awaits the final command to bring doomsday.
But you, the elite zombie extermination squad, have one last chance! You have 1 hour until the invasion to make your way through the cursed maze of dead bodies to the gruesome lab where the zombies are "preparing" and find the serum that will bring them back to life.
If you succeed and manage to escape from the heavily guarded and carefully sealed structure, you will find out how to stop them and prevent total distraction.
Get ready for your adventure, commando team, the mission is on...
Almost 100m2 game field

 You will have to pass through a maze and several rooms.

Recommended for 18+!

 (Of course, younger players who like and would like to experience a more depressing atmosphere are also welcome.)

For 2-8 person teams

 (The shuttles can comfortably accommodate one person, so you can mainly ride in single file, but we can accommodate up to 9 people at your own risk.)

Classic style escape game

(In this game, to the delight of many, we've put more emphasis on the classic elements of exit games, such as searching, spotting and deciphering hidden information, using traditional keys, opening a variety of padlocks and solving skill challenges.)

Game time is 60 minutes

 (plus about 15 minutes to go over instructions, so you will be on site for roughly 80-90 minutes from arrival to departure)

Hardness level of your choice

 (before the game you can indicate to our game master if you want to play on easy or hard level, this will influence the amount of help you will receive)
If you feel like it, book now!
WARNING! Old voucher codes (16-digit numeric code) cannot be handled by the current booking system. Of course, they are still valid during the redemption period and you can use them by presenting them on the spot before the game!